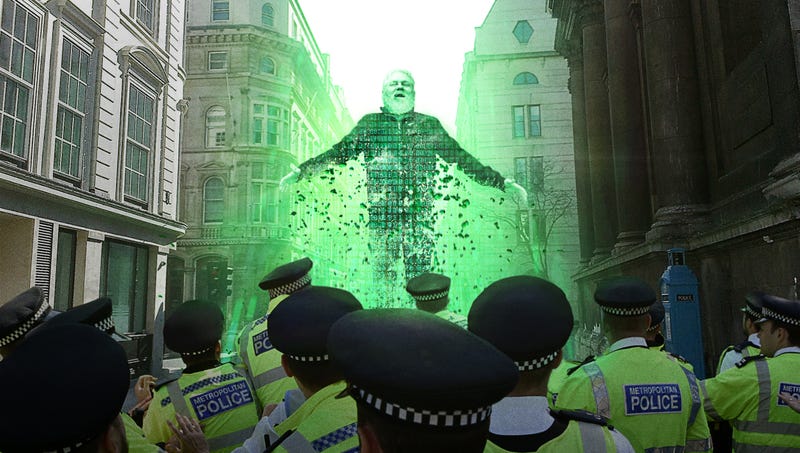 LONDON—Quickly contorting his hands to type into a faint keyboard embedded in his wrist, a cackling Julian Assange reportedly disintegrated into lines of computer code Thursday as baffled authorities attempted to handcuff him. "You fools, I have become more powerful than you can possibly know—the truth cannot be contained," said Assange, the handcuffs falling through the evaporating lines of ones and zeros and clattering on the ground as the code split and flowed into nearby electronic devices, stunning British law enforcement who watched the WikiLeaks co-founder's face suddenly appear on every screen to taunt them. "I am one with the digisphere, the world's governments can never control me now. I have left your simple world behind and become something greater. No prison will ever hold me. Information will remain free forever!" At press time, the Trump administration demanded that cyberspace officials immediately extradite Julian Assange.
---
President Donald Trump, who declared "I love WikiLeaks" during the 2016 presidential campaign, refused Thursday to comment on the arrest of the website's founder Julian Assange in London.
"I know nothing about WikiLeaks," Trump told reporters in the Oval Office. "It's not my thing."
Trump said he didn't know anything about Assange's arrest and said what happens next is up to the attorney general.
"I know nothing really about it — it's not my deal in life," he said.
Trump repeatedly praised WikiLeaks during the 2016 campaign for releasing documents stolen from the Democratic Party as part of a Russian effort to influence the election on Trump's behalf.
Authorities in London arrested Assange on Thursday after Ecuador's government expelled the WikiLeaks founder from its British embassy where he had been living for seven years.
The United Kingdom plans to extradite Assange to the United States, which on Thursday released an indictment accusing him of conspiring with ex-Army intelligence analyst Chelsea Manning to publish classified documents on U.S. activity in Iraq, Afghanistan, and other countries.